Breakfast is not my favorite meal. There was a 19-comment discussion of this subject on my Facebook wall last week after I admitted to having eaten a leftover chicken enchilada for breakfast ... kind of like Huevos Rancheros -- hold the huevos. It was concluded that you can eat whatever you want for breakfast just so long as you eat it. So I was justified. ;)
Eggs have never been one of my favorite foods. I like quiche and good deviled eggs, but am not tempted at all by fried ones, much preferring softly scrambled ones. As I've matured <wink>, I've learned to like certain foods more than I did at one time. Eggs is one of them and I can't help but think that it has something to do the farm-fresh ones that I buy now. The taste is different.
One of my favorite ways to eat eggs is "enchilada-inspired" ... Layer scrambled eggs on a grilled tortilla covered with a bit of cheddar/monterrey cheese mix and top with a bit of salsa and you have yourself an amazingly delectable mix of flavors that will keep you from believing that you are eating breakfast .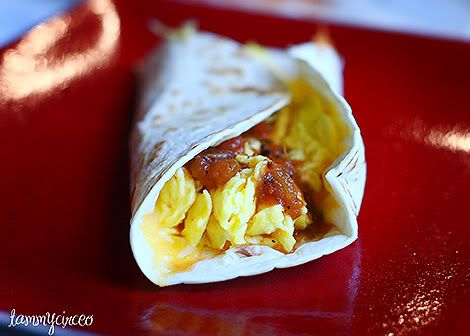 This is good any time of day. It can be made quickly in the mornings for breakfast or whipped up for an after-school snack for the kids, or even a quick dinner.
Ken likes salsa verde and I like salsa rojo ... What kind do you like?