I have never been averse to vegetables, even as a child. My mom loves to tell about how I would choose a salad over a dessert any day of the year. It's 'almost' still true. I'm struggling at the moment to resist  Fran's Gray Salt Thins, but I'm sure I'll return to veggies soon enough.
And when it comes to roasted vegetables, I'm a complete pushover. I LOVE roasted veggies...especially in the winter when days are short, warmth is needed, and the cozy factor needs a boost. Roasted veggies does it! The heat from the oven as well as the fragrance is all it takes for me to have a boost in spirit. The roasting time may not be extensive (just long enough for me to shower, do my hair, make my bed! -- that's about 37 minutes), but the flavors that come forth are wonderful.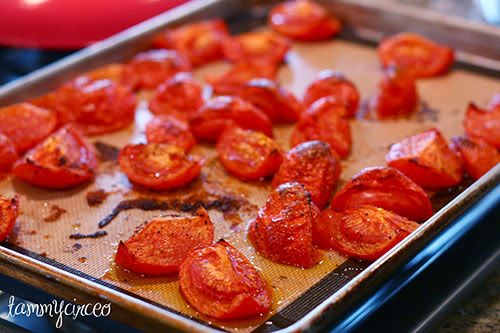 While the tomatoes roast (if I'm not showering, doing my hair, and making my bed!), I chop half of a large onion, three shallots, and six garlic cloves ...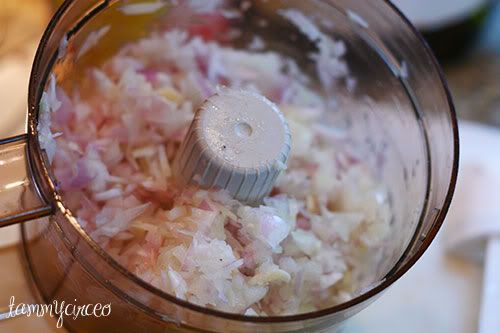 (And if I'm showering, doing my hair, and making my bed, I just do it after! No sweat!)
I've been doing this chopping chore in the food processor because for some reason recently, my eyes have been leaking large quantities of fluid when I chop onions and shallots. Not sure why ... I never used to have this issue! Since I will be pureeing the end result anyway, I use the processor and save my make-up job.
Cook the onions, shallots, and garlic in olive oil and a smidge of butter till they start turning golden, then add the roasted tomatoes, chicken stock, and a can of whole Italian plum tomatoes.
Fresh basil is a must in this recipe! As is fresh thyme.
But if you have neither, feel free to use dried. It's your kitchen after all ... just use plenty of both.
The following photo was taken just after the basil and thyme was added ...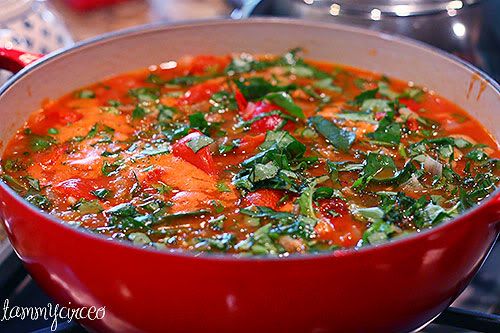 After the full set of ingredients is simmering, let it simmer for 40 minutes, then puree it. Use a food mill for optimal results. I don't have one so I used an immersion blender and the texture was certainly palatable.
Dunk grilled cheese sandwiches into it, slurp it down noisily from a mug, or civilly use a soup spoon to politely put it in your mouth. Your choice. Any way you choose, your stomach will thank you.
If you are looking for low-calorie dishes in this "scale-back" month of January, this is one for you. Essentially, it is simply roasted tomatoes and herbs ... SO good for you! (The recipe calls for 2 Tablespoons of butter which you could leave out with little sacrifice.)
Bon Appetit!