There are few things more satisfying on a winter day than a bowl of hot soup. Vietnamese Pho is one of my favorite and I firmly believe it is their version of our Chicken Noodle Soup ... It cures all ills!
I cleaned out my recipe piles recently and came across this recipe from Cook's Country. It isn't really a Pho, and I tweaked it just a bit, but Emily declared it "better than pho". I think we have ourselves a keeper.
The ingredients: chicken broth, fresh minced ginger, fresh minced garlic, Chinese five-spice powder, fish sauce, rice noodles (use angel hair pasta if you can't find rice noodles), thinly sliced beef, and Napa cabbage.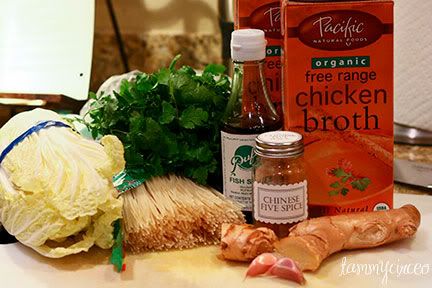 This soup is made so quickly, too ... you just heat the broth with the ginger, garlic, Chinese five-spice powder, and fish sauce and let it simmer for about 10 minutes. 
[Sidenote: There's really no substitute for fish sauce. It doesn't sound delicious, and you might decide that it can be left out, but you should really do what you can to find and use fish sauce! It creates a different flavor that just can't be achieved with anything else.]
After the broth has simmered, add the rice noodles and cook them in the broth just as you would cook them in water. Add the beef and cabbage and let it cook till the beef is barely not pink anymore. Literally, the soup can be made in about 20 minutes.
If you can't find Napa cabbage, feel free to use regular green cabbage. You can tell from the photo, though, that the leaves of napa cabbage are a bit thinner and more delicate than regular green cabbage, so be prepared for a little more cook time and slice it more thinly, too.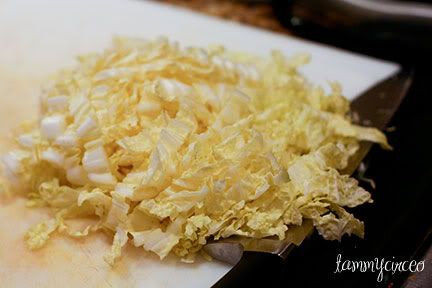 My grocery store sells beef already cut thin for sukiyaki so I bought that and then cut thin strips. However, you can just as easily get some sirloin steak or flank steak and slice it thinly as well. When those cuts are on sale, I usually purchase them instead. If you have time, putting the meat in the freezer for a little while before cutting will help with the slicing.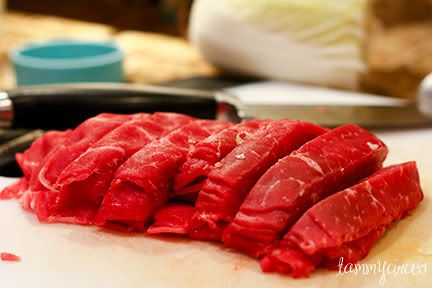 Just before serving, sprinkle fresh cilantro into the soup ... (Pardon that pot! We were serving from the stove on that particular evening ... no fancy soup tureen ...)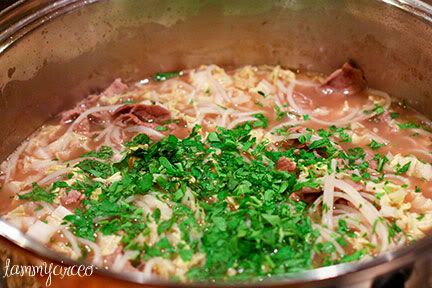 Garnishes are lime wedges, thinly sliced green onions, and jalapeno peppers, chopped small ...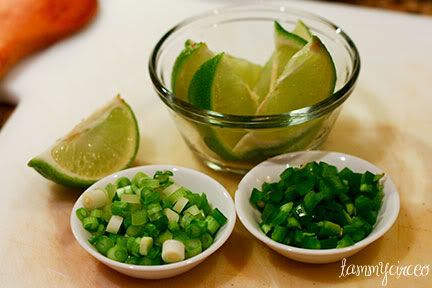 Chopped roasted peanuts, bean sprouts, and basil leaves are great, too.
You can also serve soy sauce (or tamari for a wheat-free option), sriracha, sweet and spicy chili paste ... or any other sauce that you like. Ben, especially, likes to doctor his up with all kinds of spice!
We pulled out the chopsticks and tried our hand at eating it authentically. It worked for exactly 33% of us. The rest resorted to forks and twirling the rice noodles as we would spaghetti. :)
Bon Appetit! And good luck with the chopsticks!