There must be tons of recipes out there for sauteed chicken seasoned with tarragon and in fact, the ones I've tried have left me a rather deflated. Which has always saddened me because if any herb is quintessentially French, it would be tarragon and I simply love all things French. Except tarragon.
It is not my favorite herb as it reminds me too much of licorice, which I can't stand. However, when I came across the suggestion of pairing a hotter spice, such as curry, with the more mild tarragon, I have to say that I was wooed once again to try it. (Thank you, Thomas Keller.) Intriguing.
I often make dinners such as these ... very simply saute a bit of onion, or garlic, or leeks and shallots, then add a seasoned meat, an herb, deglaze the pan with wine or broth, thicken the sauce if I find it necessary ... so when I found that Thomas (I wonder if his friends call him "Tom"?) included a similar simple rendition in his most recent cookbook, I found myself authenticated in my role as "Home Cook".
After seasoning the chicken with curry powder and paprika, sauteeing it in a bit of butter and olive oil, I then added shallots to the pan to cook softly along with white wine and chicken broth. Finally, I topped it with fresh chopped tarragon. Dinner was served in less than 30 minutes, Rachael Ray.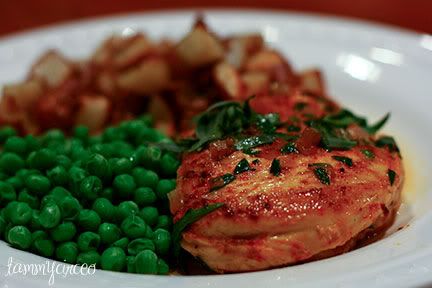 Intriguing ... and delicious.
I've included the exact steps I took in creating the recipes. It's slightly different than Tom's (sorry, that should be "Thomas" to me and I shouldn't deign to change his recipe or method, but I'm an independent woman so I did ... He probably appreciates that.) I offer you my rendition as a download. :)