For those of you who live in warmer climates, island locations, or are currently experiencing summer weather, you might not be able to embrace the cozy factor of a steaming bowl of beef stew on a cold winter's day. But for those of us in climates that cause us to store summer clothes and bring out the winterwear, we are all too anxious for dishes that warm us to our souls.
Enter Boeuf Bourguignon. (My son, Ben, says, "Mom, just say, bEEf!" But I can't ... it's "boeuf"! Pronounced "B-oo-f", like "book" with an "f".) On one hand, Boeuf Bourguignon is a beef stew. On the other hand, it's French. Which means that it has some decidedly delicious ingredients such as bacon, hand-trimmed and cut beef chuck, red wine, pearl onions, and mushrooms, seasoned with garlic, thyme and bay leaves, enhanced with tomato paste and beef stock. Are you salivating yet?
Then get yourself to the market and get this dish in the oven for dinner! It's very simple to prepare, and the cook time is long enough to allow you to read a short story, watch a movie, or address your Christmas cards.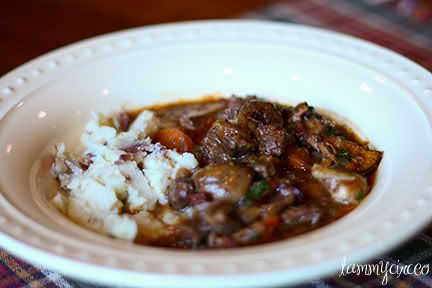 My recipe and method of constructing this dish are influenced by Julia "Queen of the Home Kitchen" Child and Virginia Willis. I've perfected the method to ensure a simple preparation and a more-than-yummy result.
I usually make some mashed potatoes to go with it for my Meat + Potatoes American Family (namely, the boys!), but it is amazingly enjoyable without.
Bon Appetit!