My apparent new love affair with pumpkin continues this week. I thought I was over it ... until I tasted my lunch and then I became aware that it's far from over.
On our way home from Ben's soccer game last Friday evening, Ken tuned to NPR trying to find some jazz to listen to. However, there was only "talking". The good thing is that they were talking about a recipe. It sounded familiar and then a new voice jumped in and I thought I recognized it. Sure enough, it was Dorie talking about stuffed pumpkins ...'stuffed with everything good'. The host could hardly respond after having a taste and that sealed the deal for me that I would try yet one more new thing to do with pumpkins!
On my next trip to the grocery store, I picked up a cute little three-pound pumpkin.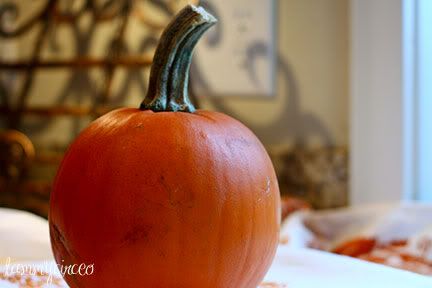 I love using fresh pumpkin! All the way from scooping out the insides (and reserving the seeds for roasting, of course!) to seeing the bright flesh ...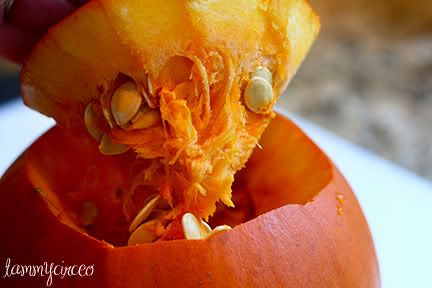 Truly, the possibilities for stuffing are endless! I used spelt bread so Wheat-Intolerant Emily could share lunch with me, pepper bacon, gruyere cheese ...then mixed a bit of cream with freshly ground pepper, thyme, and chives. You could easily use rice or sausage, or bleu cheese and why not Brie?. Change up the herbs, if you want. The bottom line is "mix up all the things you consider good and stuff a pumpkin"!
After packing it into the pumpkin (which, in my ever so humble, non-American opinion, is way better than stuffing a turkey!), put the lid back on, and put it in the oven. I put it in a pie plate on top of a silicone-lined baking sheet because I knew I would want to be able to serve it from the pie plate rather than try to move it from the larger baking sheet.
Let it bake for an hour and a half, then take the lid off and let the top of the stuffing get a bit browned over the next 30 minutes.
Sharing this dish is quite possibly the only way to enjoy this dish ... Why one would hoard it all to themselves would be beyond understanding.
Bon Appétit!