Obviously, I found the soup I made last night to be 'share-worthy' since I'm back here today to do so! My son, Ben, has a differing opinion. The consistency of the soup is much like Potato Soup, which he loves, and when I asked him what he thought I could do to make the Pumpkin Soup more appealing to him, he said, "Use potatoes!"
[I don't have a printable recipe of that potato soup here so I'll make a point to make it again soon, and try to work on exact measurements.]
Ben's opinion aside, the rest *most* of the rest of us--thought it was pretty tasty and were willing to clean our bowls. I've only ever had pumpkin soup once and I found it bland and not tempting to try again. Most recipes I've read call for pureed pumpkin, some milk or cream, and spices like nutmeg and ginger. That sounds delicious, but in reality ... bland. I've traditionally been happy having my pumpkin in pie-form.
However, this recipe takes pumpkin from sweet to spicy with chipotle peppers, cumin, and oregano! Oh yeah ... and onions and garlic, too. And lime and cilantro!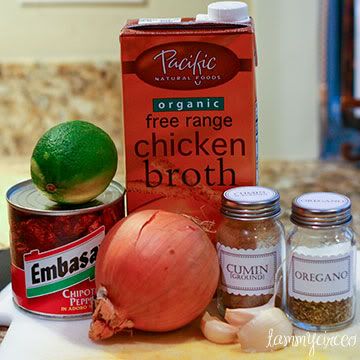 If you aren't convinced that those flavors 'go' with pumpkin, it's probably because you've always thought of pumpkin as the base for a sweet thing. If you think of it more as a squash, you might be able to convince yourself to try the soup. Garnish the servings with a little Creme Fresca (or add a wee bit of milk to creme fraiche or sour cream), and cilantro. We found it tasty accompanied by tortilla chips as well.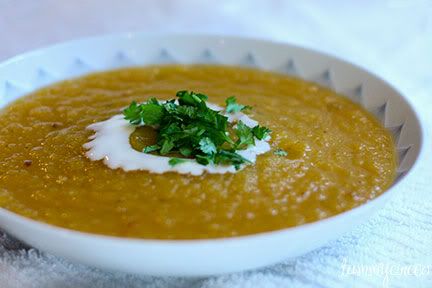 Quite a tasty way to get your Vitamin A! Bon Appetit!
Download Southwest Pumpkin Soup
PS --for those of you worried that Ben didn't get enough to eat last night, let it be known that I made Chipotle Chicken over Rice, too! It's not usually a concern that That Kid doesn't get enough to eat!! He is a human food vacuum and if you don't believe me, I'll show you my grocery bills ...