Saturday, when the college baseball coach was here to talk about Ben playing for him, I put out some hors d'oeuvres to munch on while we chatted. Things like cold cuts, olive tapenade and tomato topping for crostinis, a cheese selection, cornichons ... The coach teased Ben and said, "So is this all you get for dinner?" Ben said, "No, Coach, I don't go hungry around here! And we usually have dinner together four or five times a week."
Sometimes, even when you don't realize it, the kids are really listening and taking note. He went on to quote a study showing that kids who have family dinners several times a week are more socially adept, more prone to intelligent conversation, and physically healthier. It's nice to know he has enjoyed our efforts at family dinners!
I tell you that story to say that it's not always easy getting a healthful meal on the table in the evenings, but we have made it a priority in our home. Last night was one of those nights since I taught piano in the afternoon and wasn't really feeling that great. So I made something up on the fly (it took less than 30 minutes), called it Chicken Pomodoro, served it with rice although I might have preferred angel hair pasta, and it was a hit!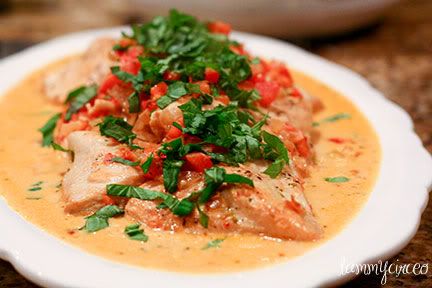 TIME SAVERS:
Spend a few minutes to pound the chicken breasts so they are all a consistent thickness. The cook time will be much shorter. (Sometimes, I do this when I bring them home from the grocery store. That way, they are ready when I need them.)
Use canned, diced tomatoes if you want, but I used plum tomatoes and chopped them small. I chopped while the chicken cooked so there was no time loss.
Use one skillet! Easy clean up!
Bon Appétit!