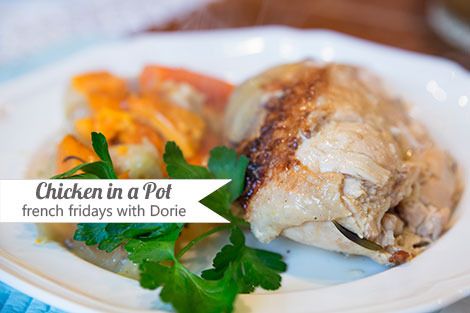 According to one member of our French Fridays group who took the time to calculate the exact length of time we've spent cooking together, it's been 4 years, 7 months, and 21 days. His calculation inspired me to retrace my own steps of this journey and see where I've been. The kick-off date for the group was October 1, 2010, but I jumped the gun and posted my first French Fridays post on September 17 of that year. And since then, I've cooked through Dorie Greenspan's Around My French Table with a group of dedicated home cooks, a couple of whom didn't miss a single week's recipe or post! I wasn't that successful, but this experience has been wonderfully enriching.
Although there's still four more posts planned for our group, today's is the last recipe we'll cook together and is also the cover photo of the book -- Chicken in a Pot: the garlic and lemon version. There's lots of vegetables, including tons of garlic. Four heads of it!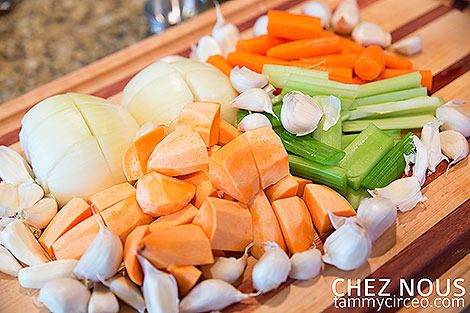 The recipe also calls for preserved lemon cooked in sugar water which I found strange, but I did make it. Foggy brain ruled, though, and I forgot to include it in the dish!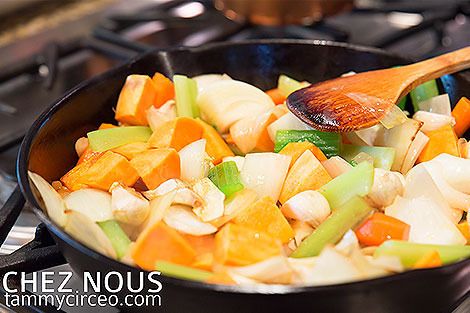 After browning the vegetables and the chicken, I tucked it all snugly into my stoneware baker bowl that has its own lid. Dorie suggests making a dough seal for the pot so that none of the juices escape, but since I was using a stone bowl, I skipped that step. I always have wonderful success with the baker bowl and I appreciated how the top of the chicken that was above the liquid was nice and brown.
As far as flavor goes, this dish was amazing and the chicken was nice and tender. However, I felt the vegetables were too mushy and I would probably prefer roasting them separately from the chicken. At that point, though, it's no longer "Chicken in a Pot" and it seems that the original intent of the dish is lost.
(French Fridays with Dorie has been a group of home cooks working their way through Dorie Greenspan's cookbook Around My French Table. The recipes are decided on by popular vote on the website French Fridays with Dorie.)