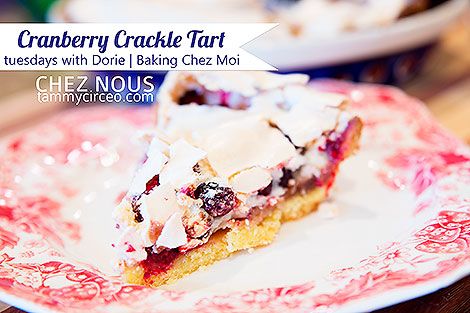 I found the name of this dessert clever. It's a pie (called a tart) and cranberries are ... well ... they're tart. They are rarely used without copious amounts of sugar to counter that characteristic.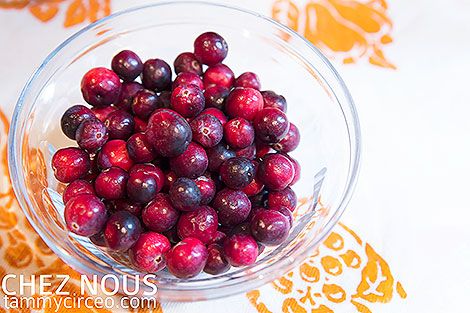 The crust of this tart is a little sweet, and the bottom of the tart is spread thinly with some jelly. I used some homemade strawberry.
But I was surprised that the only other sugar was used to make the meringue! The cranberries were folded into the meringue and baked till golden.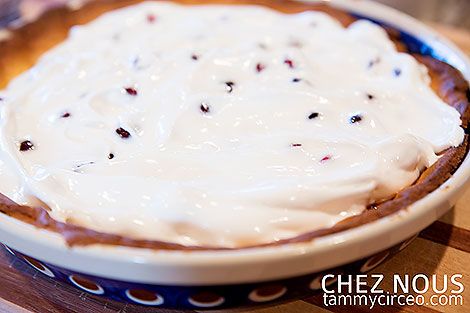 I couldn't believe the cranberries ended up tasting sweet with so little sugar added. The "crackled" part of the title shows up in the top of the finished pie and the result is a slightly sweet, simple pie. If I hadn't just made it, I might consider making it for Thanksgiving. Pumpkin, pecan, and apple will reign supreme this holiday (as they do on all Thanksgivings Chez Nous)!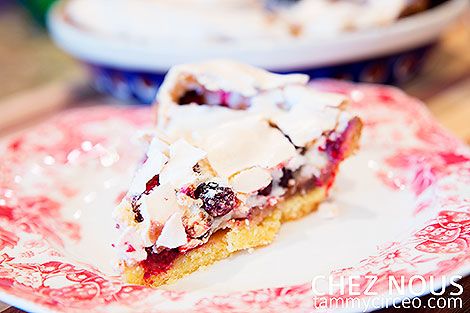 According to the rules of the group, Tuesdays with Dorie Bakers are not allowed to post the actual recipe ... mes regrets. However, you'll not have an ounce of disappointment if you purchase your own book and bake along with us. You can find it HERE! And this week, you're in for a treat because this recipe has been published on Splendid Table!