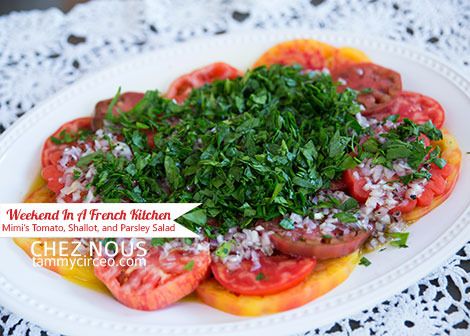 If ever there was a salad that screams "SUMMER", it's this one. The full warmth of summer comes out when it is made with home-grown or farmer's market tomatoes and I think it might be a sacrilege to use anything other. Fresh tomatoes are one of the reasons I tolerate the heat of summer!
I found some beautiful heirloom tomatoes and it really makes the dish beautiful with all the colors. I could eat tomatoes straight up by themselves, but a great accompaniment is a simple dressing of olive oil mixed with some Dijon mustard and shallots, seasoned with salt and pepper. Mimi suggests a "bunch" of flat-leaf parsley and I'm not sure if that's a literal bunch that you buy from the grocery store or if it's more of term to describe quantity. At any rate, as I cut the bunch of parsley, I felt that it would be too much to put it all on the salad, so I used my own judgment for our tastes.
I bought Mimi's book A Kitchen in France a few months ago and have enjoyed many of the recipes so far. As this project rolls along, I plan to share all of them with you each Sunday.
{According to the rules of Weekend in a French Kitchen, we do not publish the recipe, However, you won't regret purchasing the book and cooking along with us! Visit our website to join!}