Valentine's Day is right around the corner and while we don't usually go out to celebrate, we do acknowledge the day with our loved ones ... each other and our kids, too. One of my kids reminded recently that I used to give them books for Valentine's Day when they were growing up ... I think I should revive that tradition!
I created these cards recently for the Snap Click blog and wanted to share them here, too. I used Carta Bella's Amour Collection and folks, I just gotta say that that kit is just up my alley. It's all lovey with French icons and words. Just perfect.
I made this one by printing the black paper, cutting a rectangle out of the front, and gluing the image of the Eiffel Tower to be viewed through it. It's finished off with ribbon and heart charms.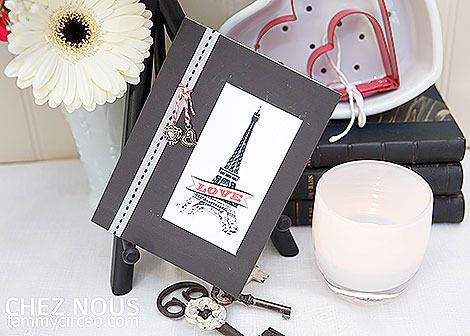 I can't seem to part with banners. They are just cozy! I attached this one with string, brads, and a little glue. I put pop-dots behind the "Love is Here" cutout, and glued the "LOVE" strip across the bottom.