Today is a huge day of celebration for Dorie and those of us in the French Fridays online cooking group. It is Dorie's birthday, it is the 4th anniversary of our French Fridays group, and it is also the release date of Dorie's next book, Baking Chez Moi!
We were given priority access to four recipes from Dorie's new book and given our choice of which one to make for this post. The choices were Mini Canneles, Chocolate Cream Puffs with Mascarpone Filling, Palets de Dames, and Brown Butter Peach Tourte.
Although the Chocolate Cream Puffs with Mascarpone Filling were calling my name LOUD and CLEAR, I opted to make the Palets de Dames because I've made a ton of cream puffs in my day and I was curious about the Palets de Dames. The word "palets" translates to "puck" (yes, as in hockey), but is softened by the "de dames" which refers to Jeu de Dames, also known as the game of checkers.
The cookies are hardly larger than a checkers piece and are rather dense ... just like every home-baked cake I ever ate baked in a French home. Dorie doesn't suggest it, but I read on a few sources that some patisseries put a light layer of apricot jelly on top of the cookies before glazing them with a simple milk+powdered sugar+lemon juice glaze. So that's what I did and I thought the apricot jelly added something special to an otherwise simple sweet.
Happy birthday, Dorie!
And happy 4th anniversary to the French Fridays online cooking group!
Finally ... congratulations, Dorie, on your new cookbook. I look forward to tasting the creations you've been testing and perfecting for this book!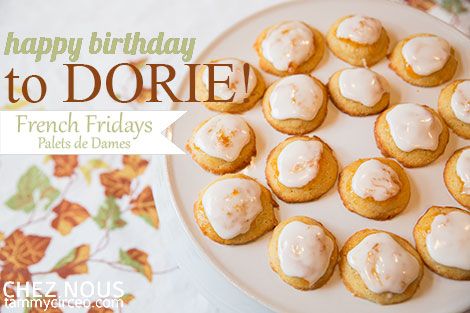 Below you'll find links to some of the members of the French Fridays group who chose to participate in this week's Celebration. Click through to find some pretty amazing creations!
Chocolate Cream Puffs with Mascarpone Filling