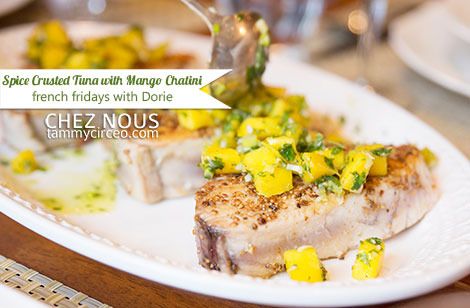 A few weeks ago, I learned that one of my French Friday pals was going to be in town for a few days visiting her mom. After a few Facebook messages, we worked out a plan to spend a day cooking and baking together from our French Fridays cookbook, Around My French Table by Dorie Greenspan. What a treat that day was! Alice showed up on my porch with a grocery sack and her tattered and tabbed copy of the cookbook. We started cooking about 10:30 with celebratory mimosas and finished the day with six recipes done! We made eclairs, Paris-Brest, two different ceviches, and this week's spice-crusted tuna and mango chatini.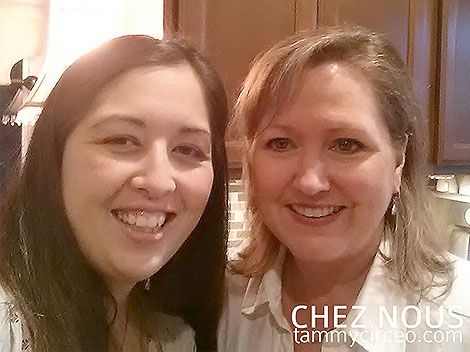 Although we'd made both the eclairs and Paris-Brest already as a group, Alice wanted to do them as makeup recipes and she arrived with vanilla, chocolate, and coffee pastry creams that she'd made at 11 PM the night before! The woman is unstoppable and I can't keep up with her! My part in the eclairs and Paris-Brest was to make the choux pastry, bake it, fill the pastries, and frost them. We opted for mini pastries so we could sample both desserts from one recipe. We decided that multiple frostings weren't necessary ... chocolate would cover the three creams in a completely satisfactory manner. You agree, don't you?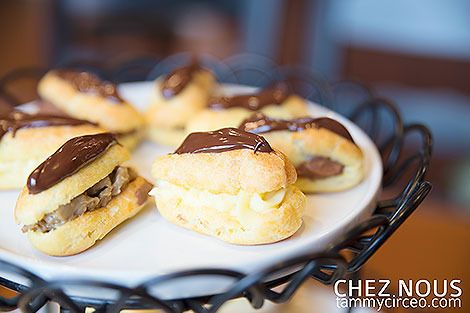 Alice's huge contribution to this week's recipe was the mango. She arrived from California after all. And my contribution? Well, the tuna, of course. Just look at that beauty.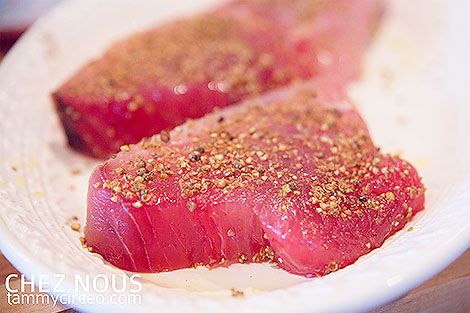 The recipe is "Spice Crusted Tuna". The spices are the seeds from cardamom pods, white peppercorns, coriander seeds, fresh ginger slices, and fleur de sel. All in a mortar and pestle and crushed together to extract all the flavor possible.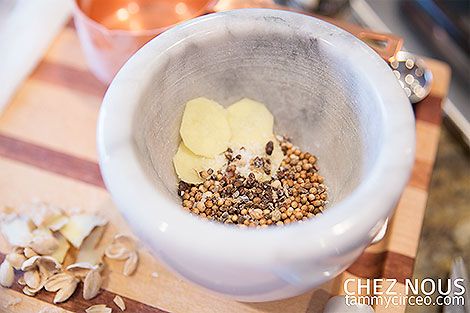 Those spices are pressed into the tuna steaks and they are seared for about two minutes on each side. Amid all of our recipe prep, and having the ceviches for appetizers, I might have let the tuna go a minute too long. We agreed that although we served the steaks with a lightly vinaigretted butter lettuce salad, an additional sauce might have been a good addition. Maybe a mango nectar/white wine reduction?
Enter the Mango Chatini.
The mango chatini, a brilliant version of salsa, was wonderful. The mango - and all the juice it left behind in the chopping process - was mixed with lime juice, fresh ginger, cilantro, scallions ...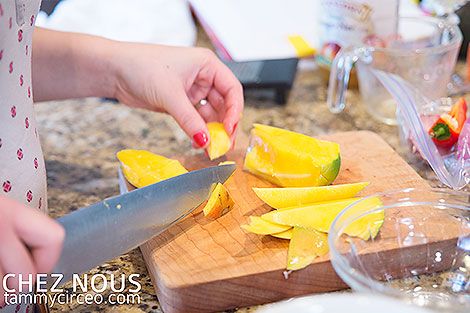 ... there's not much more to say other than, "Que c'etait bon!"
Bon Appétit!
NOTE: Dorie suggests a 5-6 ounce tuna steak per person. Although I usually think of a serving of meat to be eight ounces, I have to agree with her on this recipe. I cooked tuna steaks that were about eight ounces each and we couldn't finish our servings. The cold leftovers were wonderful on a lightly dressed salad the next day, though. All was not lost.
NOTE 2: I will share the ceviches in separate posts.
(If you're new around here or are wondering what French Fridays with Dorie is ... It's an effort to use one of Dorie's recipes from her cookbook Around My French Table each week. The recipes are decided on by popular vote on the website French Fridays with Dorie. Purchase your book HERE and play along! Find what others thought of this recipe HERE.)