Zucchini! Zucchini! Everywhere!!
Every summer, there are numerous comments about how prolific zucchini is and desperate cries for ideas on how to use it all up. I don't have a garden nor do I have too many zucchinis, but I do have some ideas on how to use it up!
There's always grilling, roasting, sauteeing ... There's stuffed zucchini "boats" ... zucchini chocolate cake ... zucchini bread (enough to fill the freezer!) ... A few clicks on Pinterest will land you an infinite number of recipes. 
And then there's fritters. I published a fritter recipe last summer that I'd found in the Bon Appetit magazine and they were certainly tasty, especially with the spicy soy sauce dip. So why not try another zucchini fritter recipe? With the surplus zucchini, there's always a need for more recipes, right? 
This one holds together quite well and not only has zucchini, but also spinach, feta, and a variety of herbs and is topped with a tzatziki sauce, which is a Greek yogurt sauce with garlic, cucumbers, and lemon juice. A beautiful summer accompaniment for grilled chicken seasoned with Mediterranean spices such as oregano, garlic, and lemon.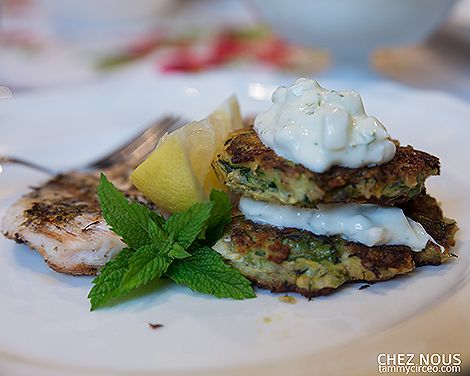 Bon Appétit!
Notes for THM: Be sure to pair this with an appropriate protein source.
If the feta and yogurt are fat-free, if you leave the oil out of the tzatziki, and if your protein source is 95% lean, this is a Fuel Pull. 
If the feta and yogurt are fat-free, you can put the olive oil in the tzatziki because a serving size would contain less than the 5 grams of fat allowed for an E. You could add quinoa or brown rice and create an E meal as long as you've grilled or roasted a lean meat with no oil. 
If the cheeses have fat and you include the olive oil in the tzatziki, it's a solid S...and certainly the way I would enjoy this dish.